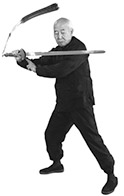 Master Liang Tung Tsai (1900 - 2002)
In an interview, Master Liang said he had 15 teachers, but still considered Cheng Man Ch'ing to be the best. Master Liang was a senior disciple of professor Cheng and studied with 7 other teachers in the Yang Family T'ai Chi lineage.
Master Liang also studied Praying Mantis and many weapons forms from various teachers in China before moving to the United States with Cheng Man Ching to aid in the teaching of T'ai Chi to American students.