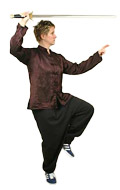 Simu Diane Cannon (Ming Mei)
Chief Instructor and Founder of Ming Tao
Diane Cannon (Ming-Mei) began her meditation and martial arts training in 1986 in Newark, DE. She was looking for an art that would help reduce stress and enhance relaxation and a sense of well-being. In 1989, she was accepted as a student of Master Ray Hayward.
In studying with Master Ray Hayward, Diane learned the complete Yang-style T'ai Chi Ch'uan system as well as Pushing Hands, Pa Kua Chang, Hsing-Yi Ch'uan, Praying Mantis and Liu Ho Pa Fa. Diane has also spent some time studying Liu Ho Pa Fa with Master Choi Wai Lun and Taoist Meditation and the Michuan T'ai Chi Form with Master Wang Yen Nien.
Diane was initiated into the Yang Family Lineage in 1998, making her a 7th Generation Lineage Holder in the Yang style T'ai Chi Ch'uan System. As a personal disciple of Master Ray Hayward, Diane continues to study and train with him regularly and demonstrate various forms at his Chinese New Year Celebrations at Mindful Motion T'ai Chi Academy in Minneapolis, MN.
In all her years of training and teaching, Diane has reached many students in New Castle County, Dover, and surrounding states. She gives talks, seminars, and retreats, and welcomes any opportunity to share the benefits of T'ai Chi Ch'uan.
Diane ensures that the traditions of the Ancient Art of T'ai Chi Ch'uan are carried on in her teachings and her instructors teachings. "We focus on the importance of the mechanics of the forms, relaxation of the mind and body, the principles of the T'ai Chi Classics, and refinement of internal energy". Diane is dedicated to teaching the traditional art as a way to gain balance, confidence, peace of mind and body, self-defense, and enhance one's state of health.